About us…..
---
Welcome to Krome Billiards! We have been around since 2005 and in our current location since 2015. We strive to offer the best experience for our players by providing a clean and friendly atmosphere with 18 7′ Diamond tables and 4 9′ Diamond tables, all meticulously cleaned and taken care of on a daily basis. We offer a full bar and kitchen and lots of Big Screen Tv's for sports. We offer league play during the week and host tournaments on Fridays and Saturdays (see Krome Tournament page for all the info).
Our table rates are $1.00 per game or $8.00 an hour. We do offer the following specials…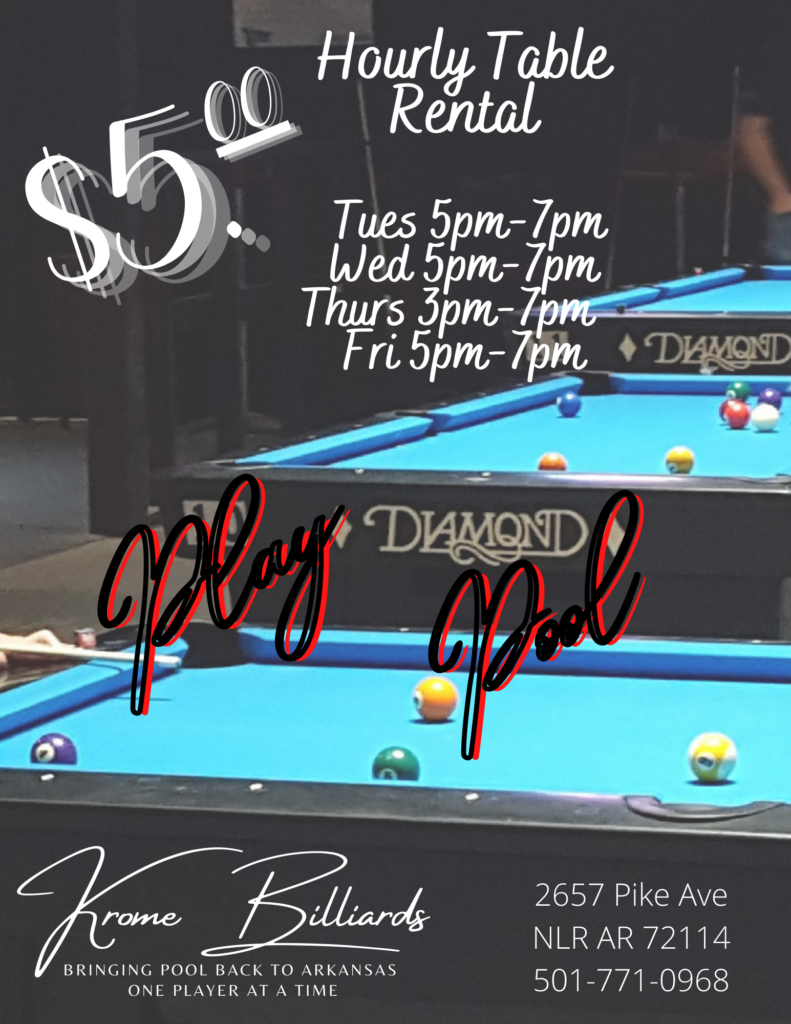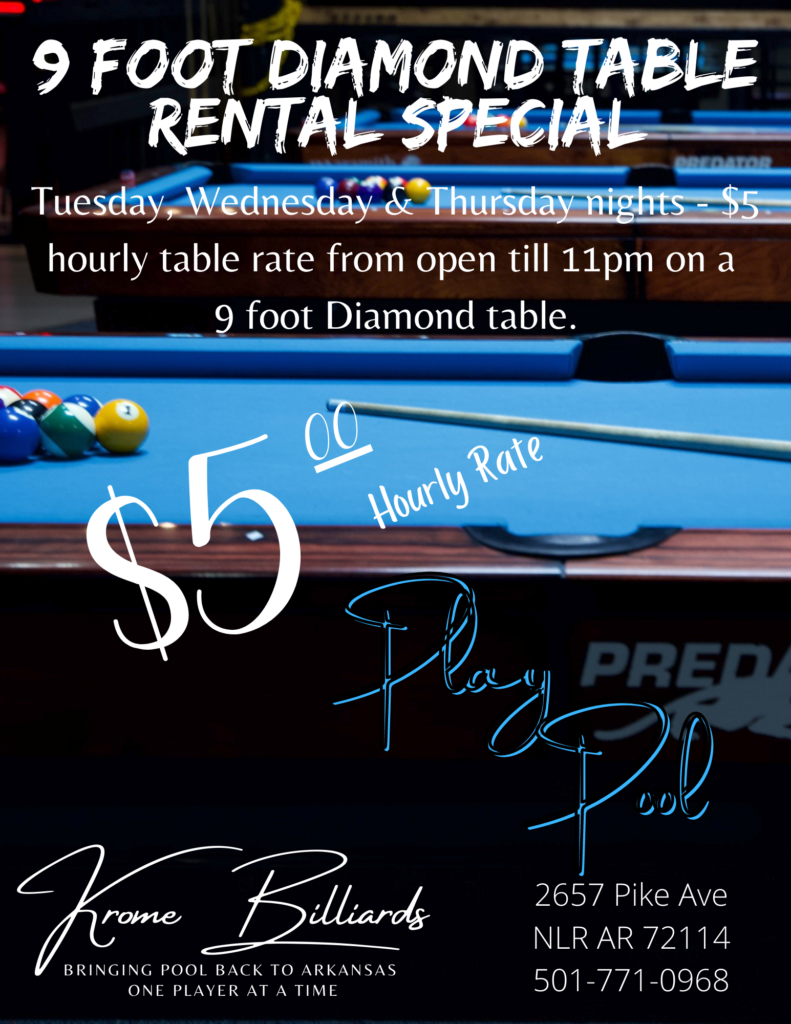 We are an 18 and up establishment. We do however allow younger teenagers to come in with their parents to learn the game of pool, providing they understand and have good pool etiquette. Please call and let us know the ages of your children and we can advise on whether they will be able to come in.
We are pretty strict on our rules, because we want everyone to have a good experience while playing here at Krome Billiards, whether its in league, tournament or just for fun. Good pool etiquette is an absolute must.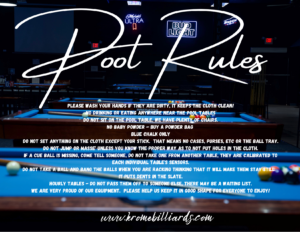 Since every day of the week, we have something going, if you want to just come in and play a friendly game of pool, please come to the bar and we will do our best to get you a table.  During the week, league starts at 7pm and is usually done around 9:30pm or 10pm.  Thursday nights are our busiest, it can be hard to get a table, however the 9′ Diamonds are always first come, first serve as we do not use them for league or tournaments on any night.
Our hours are:
Tuesday – 5pm-11pm
Wednesday 5pm-11pm
Thursday 3pm-11pm
Friday 5pm-mid
Saturday Noon-1am
We are currently closed on Sundays and Mondays, however we do hold special events on Sundays sometimes, just check the Tournament page for info.

Need a place for a Christmas party or just an office outing, ask about renting our facility. Or even just reserving a few tables for a special occasion, we will do our best to accommodate!
We have some of the best customers you could ever ask for in the pool community. There are always players willing help to help newbies with their game. Our pool community is made up of everything from beginners to top notch players and we offer opportunities in both league and tournaments for every skill level. We would love to have you become part of our Krome Family!