Welcome to The On Site Pool Network
It is now economical to provide exclusive live and on-demand coverage of any billiard event tailored to a specification surrounding your product, services, sponsors and/or associates. OSPN facilitates and maintains a complete online infrastructure focused only on pool & billiards. We leverage no predatory services that may or may not have permission to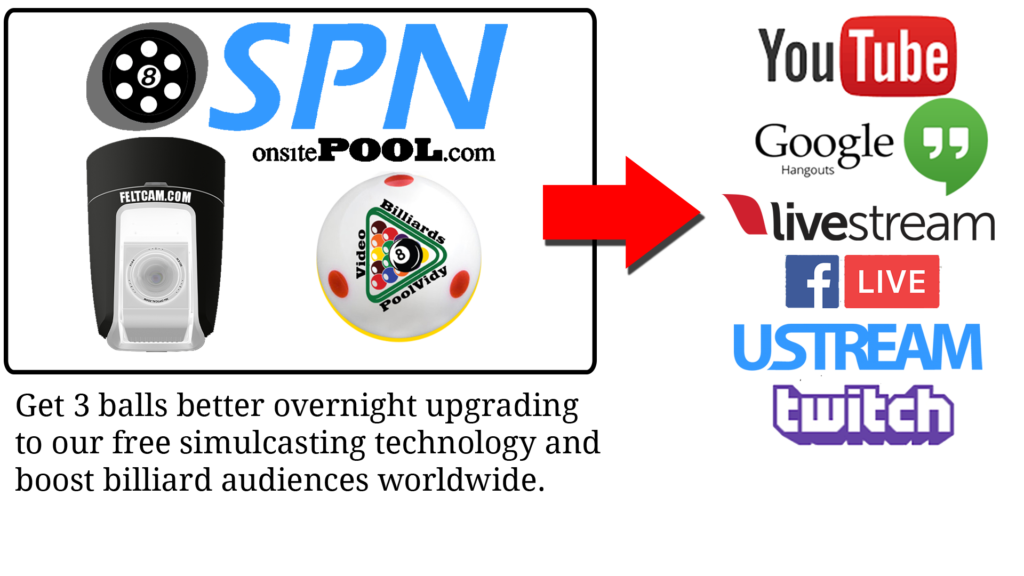 interrupt or interject an audience.  Our turn key service provides you with minimal brand intrusion or a questionable agenda that in the past had to be agreed with to receive live coverage or video recordings. There was simply no other choice.
Today, technologies once only available to very large internet technology companies have landed in the hands of smaller technology entrepreneurs like us. We have crafted a niche market strategically aligned for any billiard project or event. As a customer you will receive exactly what you'd expect if it were your own. We'll show you how, emphasize on cost savings, and prepare a long term plan. Yes! You will be able to earn residual income that can offset a very small expense using our service.  With OSPN, showcasing your brand surrounded by squeaky clean live billiard video, will enrich online audiences around the world, with you as our customer front and center.
Check out our 2016-2017 Live Billiard Streaming Incentive. We want you as our customer!
Zachary Goldsmith
Founder, On Site Pool Network, LLC.
855-750-7665 x2 Office
614-750-7665 Direct (No SMS)